FP030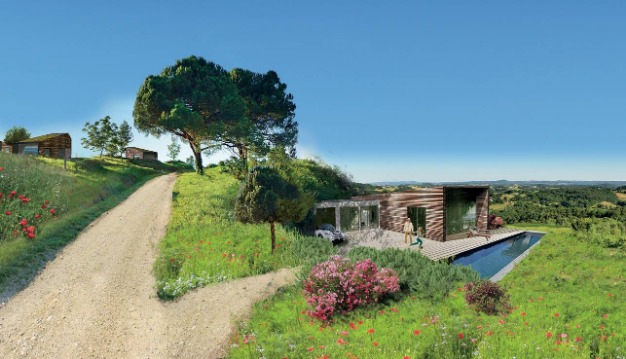 New super-ecological bungalow on prime location in the South-West of France.

Price → between € 180,000 and € 250,000.

Newly built modern bungalow with green roof on an absolute prime location with spectacular views. Designed by an architect and with complete plans and planning permission. Construction can be started tomorrow and be ready by the end of 2019.
In addition, the plan can still be adapted to your personal wishes.

Strengths: ground floor, large windows with beautiful views, grass roof which provides coolness in summer and warmth in winter, 100% new, ecological, low costs. zero maintenance for both home and garden; personal adjustments possible.
Surrounded by the hills of the Corrèze. The Corrèze used to be part of the Limousin region, and is currently part of 'Nouvelle Aquitaine', located in the attractive South-West of France. A 5-hour drive from Paris. Expo in beautiful green landscape with optimal tranquility, rich views and extremely clean air. Optimal for nature-loving people. And also 100% free from forest fires, floods, air and light pollution, crowds etc. This is pure nature !!
The house is located on a plot (100% owned) of 2200 m² which is basically one large prairie garden. Low maintenance and low costs and guaranteed year-round in harmony with nature. The garden is professionally mowed in the spring and autumn and offers a beautiful habitat for hoopoes, bee-eaters, butterflies and reptiles. The garden can be adjusted to your personal wishes, but requires low maintenance.

The property with its 2200 m² prairie garden is part of a ' hameau ' with 10 other properties. Due to the size of the plots of an average of 4000 m² and the hilly surface one hardly sees the other houses and the tranquility is not disturbed at all. The absence of noisy garden maintenance machines has also been a motivation for choosing the prairie garden. There is therefore no sense of isolation and the set-up will also create clear harmony in the socio-cultural experience.

The ecological aspect starts immediately with the super-insulating and low-maintenance grass roof and, in addition, the construction standards for new construction in France are much stricter than in the Netherlands and Britain. A so-called 'Passive' house is absolutely possible due to the optimum expo for solar panels.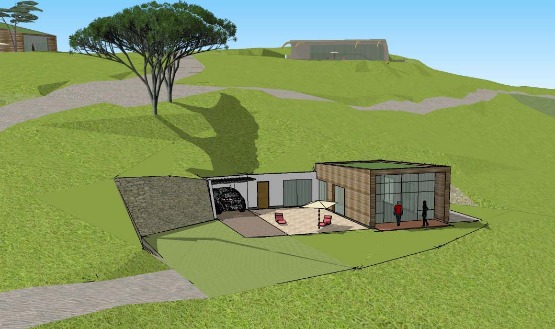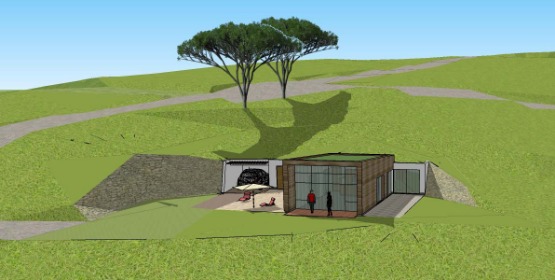 With the existing plan we have a living room-kitchen of 40 m² with large front and expo on the east. Sleek, lots of light and exterior finished with wooden ' bardage ' or with maintenance-free plaster. A big plus here is that you decide how the finish will be in terms of floor, color, heating, exterior view, kitchen etc. etc.
The rear flank provides space for bedrooms, plumbing, storage space, garage, workshop and so on. Again, a big plus is that it can still be fully adapted to your personal wishes in terms of spaces, finishes and comfort. The total price can be influenced by implementing your personal choices.
with the purchase of the fully integrated plot you will become the owner of the property. Everything has already been prepared in terms of electricity, drinking water, waste water drainage, rainwater drainage supply cables.
A collective system of septic tank with sand basins, installed in the nearby forest, ensures completely trouble-free and extremely environmentally friendly waste water cleaning. Very often expensive and therefore disappointing in France!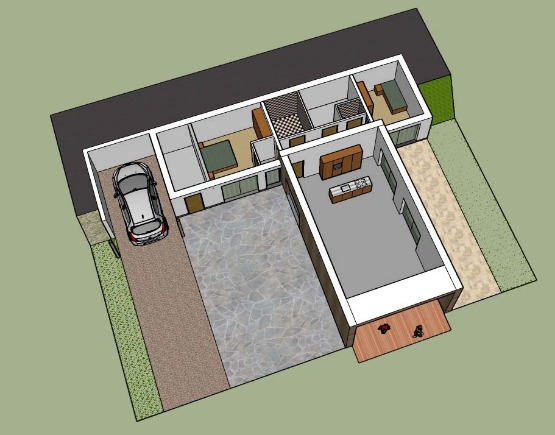 Imagine that you are fascinated by this concept → then it seems to me that the next step is to see, taste and feel the place. The place is sublime! Unless you need the Gucci store or the boulevard around the corner….

Step two, together with the architect, is to assess to what extent we are adapting the existing plan. On the conceptual side, your contact will be WillemJan Droog, a Dutch architect from DB architects in Rotterdam. When the plan is entirely in accordance with your wishes, the concept is sent to the French architect who handles the further formalities regarding the building permit and technically organizes and guarantees the construction.

Because we have already fully developed this house at this location, we can actually start construction tomorrow. At the same time you will also purchase the land. You will sign a construction contract with the French architect.

Please note: all costs of purchase, construction and third parties including VAT are therefore fully included in the above amount !!
This hameau is located around 1.5 km outside of the village of Perpezac le Blanc. In the village of around 400 inhabitants there are virtually no vacant buildings, there is a school, a church from the 12th century, a town hall, bakery, pub, hotel and restaurant and a few castles. The landscape is purely agricultural with small-scale livestock farming, arable farming, fruit trees and forestry. 2 km away we find Ayen which offers more shops and 10 km away is Objat with banks, supermarkets, garages etc. and a very nice Sunday morning market. The large town of Brive is 20 km away and, in addition to the motorway to all directions, also has a train station and is located 15 minutes from an airport.

Within an hour of our spot you will find a huge variety of sights and relaxation options. If you Google Corrèze , Dordogne, Lot or Limousin you will be surprised by all possibilities.

Have we aroused your interest? Please contact us now!