Having lived in Corrèze for more than 20 years, we offer you our professional experience for any proposed purchase, sale or lease of real estate property in this beautiful region. We are also active in the project
Troglo Village Origine
, a modern, small-scale, innovative and ecologic new housing estate project at a terrific location in the Corrèze department of the French Campagne, at the Périgold and Limousin border.
OUR CURRENT OFFER (CLICK ON THE IMAGE FOR MORE INFORMATION):Please note: for our COMPLETE offer, check the French version.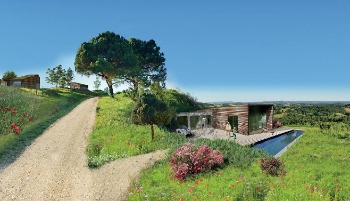 New super-ecological bungalow on prime location in the South-West of France.

Price → between € 180,000 and € 250,000.
Newly built modern bungalow with green roof on an absolute prime location with spectacular views. Designed by an architect and with complete plans and planning permission. Construction can be started tomorrow and be ready by the end of 2019. In addition, the plan can still be adapted to your personal wishes.
Strengths: ground floor, large windows with beautiful views, grass roof which provides coolness in summer and warmth in winter, 100% new, ecological, low costs. zero maintenance for both home and garden; personal adjustments possible.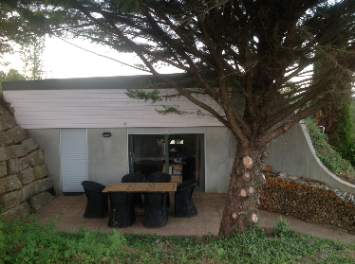 FP 022 – Bungalow with pool and tennis – Price: 249.000 €
Unique bungalow, half built into the earth, with wide views. Located in the rural country side of the village Perpezac le Blanc in the Corrèze with is part of the Limousin region and nowadays of the Nouvelle Aquitaine. With 3 other houses – seniors – you share a swimming pool with salt water and a tennis. Easy to separate in house and apartment.
Strong points: ecological house, low costs and maintenance, rich perception, wonderful and quiet spot, excellent price/quality ratio, perfect condition.